Text Messaging Software for GSM Mobile Phones
An appropriate bulk sms messaging tool for immediate and proactive communication of information
What our Software do?
Mobile sms messaging software for GSM mobile phone sends instance messages from Desktop/PC to cell phone user supported by commonly used GSM technology based mobile phone.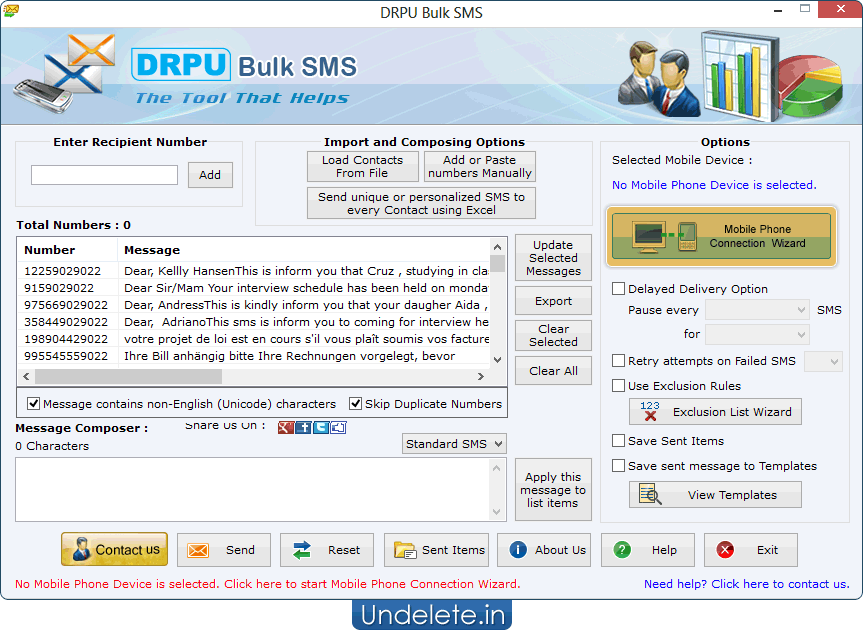 ⇛ Software Salient Features

① SMS messaging appliction broadcasts text messages easily and quickly from your PC.

② Compatible with GSM technology based mobile phones (supporting major brands like HTC, Nokia, Samsung, Sony Ericsson, LG, Motorola etc).

③ Simply type SMS using computer keyboard and send it to thousands of recipients.

④ Forward notifications and other standard/customized sms messages.

⑤ Prevent redundancy of sending sms on the same number.

⑥ Provide delayed delivery option (send sms after a specified time interval).

⑦ Cell phone texting tool import phone number list from Text file/Excel file format saved in PC.

⑧ Preview the sent item details.

⑨ Easy mobile phone connection wizard.

⑩ No internet connection required.

⇛ Advantage of using bulk text messaging software and how it is beneficial

Personal Use

•

Used for sending personalized sms to family, friends, relative members etc in one click.


•

Sends greetings on special occasion (like birthday, anniversary and many happy moments) to your colleagues.


For Educational Use

•

The school or college administration can send bulk text sms of important notifications, emergency alerts and various school activities to students.


•

Update students with emergency news like Alumni gathering, closing of institutions, cancellation of exams.


•

Notify students regarding updated exam scheme.


•

Inform students about campus placements.

Corporate Use

•

SMS messages to inform the team about change in policy or strategy.


•

SMS to various employees about salary being credited.


•

Sends daily/weekly individual targets to customers.


•

Branding product image by displaying your name on customer mobile number in place of mobile number.


•

Sending seasonal greetings to all your customers/field staff.