Memory Card Undelete Software
Memory Card Undelete Software recovers files from various digital devices that have lost due to electric failure or deletion caused by system malfunctioning or logical faults. The memory card recovery utility helps in restoring, all your photos, audio video files, mpeg, mp3 etc in all major file formats including jpg, wav, mpeg, gif, jpeg, png, bmp, mp3, mp4, tiff midi, doc etc.

Memory card recovery software recover all your deleted data even if 'Disk not formatted' or 'Disk not recognized' error messages is displayed on your PC or Laptop system. Multimedia card file retrieval utilities unerase missing still pictures from mass storage media card if removed forcefully while the device is still running. Easy-to-use and user friendly interface offers fast data recovery process without requiring any prior technical skill.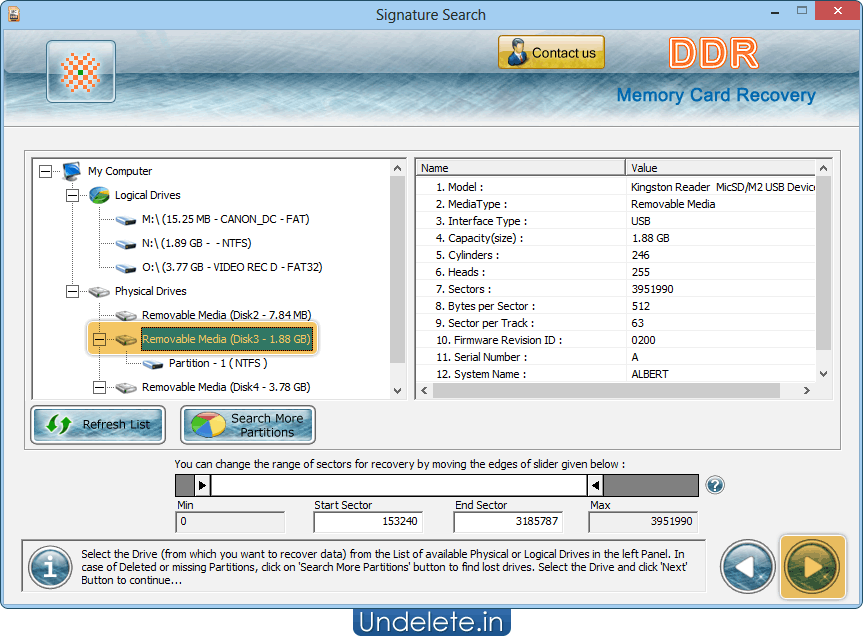 ⇛ Major features:

① Recover data from all digital devices like camcorders, still cameras and other similar devices.

② Software is capable of recovering the data from MMC cards, secure digital card (SDHC Plus, micro SD, mini SD, SDHC), compact flash, SD memory cards, Memory Stick (Micro M2, MS, MS Pro, MS Pro DUO), XD-picture cards etc.

③ Support all type of digital storage media brands including Kodak, Konica, Canon, Fuji film, Nikon, Olympus, Panasonic, Sony and Samsung etc and other popular brands available in market.

④ Support all type of card reader to completely read the data stored on your memory card.




⇛ File type supported:

•

JPEG, JPG, GIF, TIFF, BMP, MIDI, WAV