Digital Camera Undelete Software
Digital Camera Undelete Software recovers lost, deleted photos, snaps, pictures, audio-video clippings in all major file formats including jpeg, tiff, bmp, mpeg, wav etc from your portable multimedia device. Digital camera photo recovery software retrieves digital photographs even when your digital camera or camcorder device is in corrupted state.

Digital camera file undeleter tool support recovery all important missing files and folders lost due to accidental deletion, inaccessible media, virus attacks, software malfunction etc in few minutes. During recovery process scanning of the media is performed to locate the lost picture images and allows users to save them at desired safe location.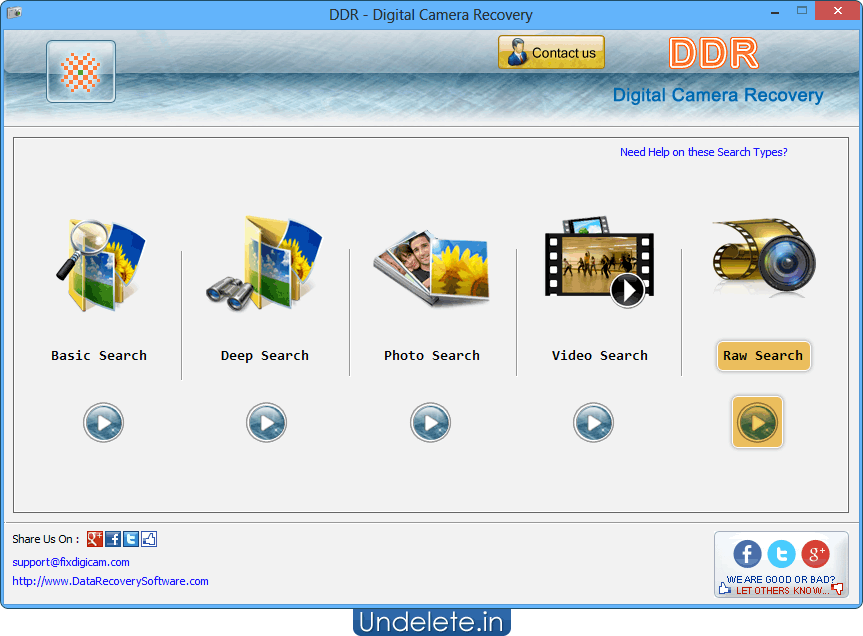 ⇛ Major features:

① Support all type of Digital camera including Canon, Konica, Toshiba, Nikon, Olympus, Samsung, Sony and many more.

② Support files and folders including jpg, jpeg, gif, riff, tiff, bmp, 3gp, mpeg, wav and other file stored on the digital media.

③ Data recovery even if 'DRIVE NOT FORMATTED' message is being displayed on your Computer screen.

④ Data retrieval support for USB media including compact flash, smart media, multimedia card, SD card etc.

⑤ Software operates very well on digital cameras including professional camera, digital video camera, novelty camera, specialty camera etc.


⇛ File type supported:

JPG JPEG GIF BMP 3gp MPEG WAV