DDR Mobile Phone Undelete Software
Today, mobile phone is one of the most commonly used communication devices. Most of the cell phone comes with external memory card to store your valuable data like photos, audios, videos, pictures, snaps, images, mp3/mp4 files, songs etc. However in some situations, you have lost your all cell phone data without having backup of these data. To get your data back, use mobile phone data recovery software. With the help of cell phone data undelete software you can easily recovers lost data from various brands of mobile phone like Nokia, Samsung, LG, Sony Ericsson, Motorola, Blackberry and more.

Mobile phone undelete software empowers you to recover deleted data from all type of cell phones. Cell phone file undelete software restores deleted data due to formatted mobile phone memory card, virus infected or corrupted memory card of cell phone, accidentally pressing the delete button and other data loss causes.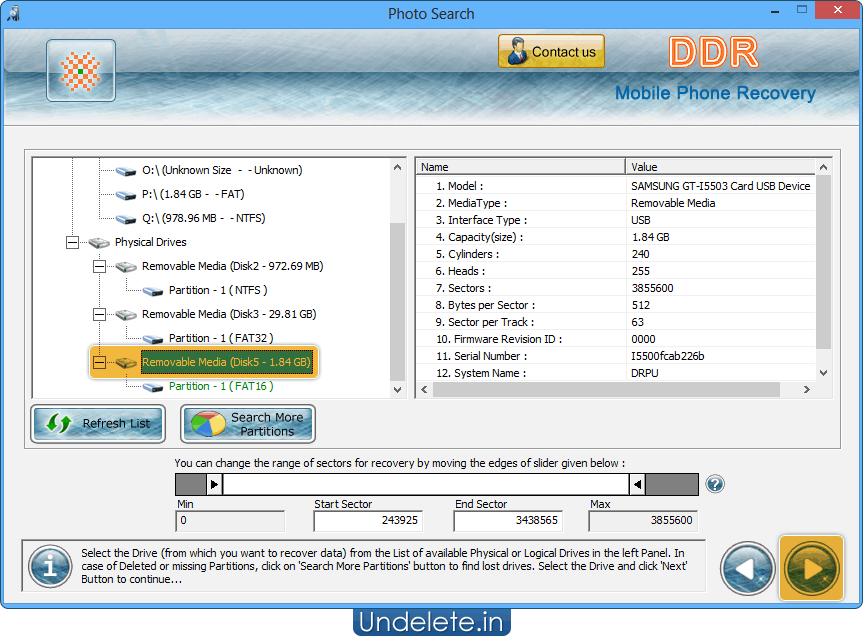 ⇛ Software Benefits:

① Secure and cost effective

② Simple to operate

③ Undelete lost cell phone data without modify them




⇛ Software Features:

① Instantly recovers lost data in less time:
Mobile phone file undelete software performs read only operation to recover lost photos, pictures, documents, emails, archives, audios, videos and other inbuilt data from your cell phone within minimal time.

① Provides different search recovery mechanisms:
Cell phone file retrieval program provides different search recovery techniques like standard search (deep search, basic search) and mobile specific search (photo search, video search, signature search) to recover lost mobile phone data.

① Restores deleted files of all extensions:
Mobile phone data undelete software successfully retrieves deleted audios files (WMA, WAV, MP4, MID, M4A, AIFF), video files (3GP, AVI, F4V, FLV, M2TS, M4V, MKV, MOV, MP4, MPG, MTS, WMV), picture files (JPG, TIF, PNG, BMP, GIF) and other type of files of all extensions.